Apart from Sage 50 Accounts integrated Registrator WebShop product, we also specialize in custom e-commerce solutions.
Our approach
In partnership with Open Software, Italy, we are working on developing top level, robust and secure custom e-commerce solutions for clients all around Europe.
Apart from software development service, we also provide a hosting platform for all our e-commerce projects.
We are a team of highly experienced engineers with a proven track record of meeting all client requirements.
Our customers feels safe, because our policy puts the customer satisfaction above all.
Thanks to our qualified and selected resources, properly structured production capacities, using the most modern tools for reporting, customer management and help desk, we can guarantee high-quality results while minimizing misunderstandings and difficulties in carrying out the activities of complex projects.
Project flow
With every project we follow these steps and provide the following:
Draft of the required functionality specification
Draft the technical specification for the proposed solution
Create the project plan
Identify the costs and development time
Writing the code and develop the solution
Testing
Q.A. The check of all software features and cross-check that they meet all customer requirements
U.A.T. verification by the customer of all specifications defined in project phase
Training (can be carried out both on-site and remotely)
Technical, project and user documentation
Technical support
Our E-Commerce Solution Features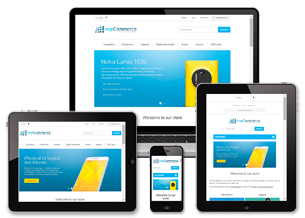 Mobile commerce
A mobile version of your website is intuitive and has a user-friendly graphical user interface.

The on-line store interface is viewable and convenient on all devices and in all resolutions.

We offer clear and up-to-date responsive design. We guarantee that your on-line store powered would be usable on any device.
Custom Product Features
We provide a wide array of editable product attributes, such as:
SKU
quantity
size
price
weight
image
stock level
Any custom attribute can be easily added to the product for the convenience of customer and complete control of the products list.
Other feature include:
Product comparison
Stock management
Prices
Downloadable products
Product reviews and ratings
Rental products
Featured products, sale products or new products
Real-time currency exchange rates (ECB)...
...and many, many others.
Multi Store
The multi-store feature enables you to run more than one store from a single e-commerce installation.

This enables the client to host more than one front-end store on different domains and manage all admin operations from one single Administration panel.

A catalog data can be shared between stores, have a product in more than one store for example, and can log-in to all stores using the same credentials.

With multi-store support a client can launch several on-line stores using a single integrated system.

We can create unique on-line stores for multiple brands, products, B2B, B2C, affiliates, co-branded stores and more.

We can also quickly launch micro-stores for promotional campaigns.

The most convenient feature is that every on-line store shares a single database.
Multi-vendor support
Multi-vendor and drop shipping support enables selling on-line without having to stock inventory or ship orders.

With drop shipping, each product is assigned to a particular vendor whose details (including email address) are stored.

When an order is placed an email is sent to the vendor of each product in the order. The email includes the products, quantities, etc. The vendor then ships the item to the customer on behalf of the merchant, who typically pays each of their vendors at the end of the month.

Products from multiple independent vendors appear in the common product catalog and the website visitors can shop at one web store even if products are supplied by hundreds of different vendors from all over the world.

Each vendor could be provided with an administrator panel access to manage their products, review sales reports and order details regarding their products. Vendors do not interfere with each other's activity.

Each vendor has its own admin panel where he can manage his catalog and see placed orders.
Search engine optimization
SEO helps to ensure that a site is accessible to a search engine and improves the chances that the site will be found by the search engine. Our search engine optimization gives you higher search rankings, meaning more free traffic to your store.

A store owner has full access for managing of keyword tags and customized URLs. This will give your site more weight with Google when it comes to ranking your site against similar sites.


Other SEO feature are:
Sitemap
Microdata
Localizable URLs
Breadcrumbs
Product reviews and ratingsURL Canonicalization
Google Analytics integration
Checkout
Checkout features include:
Anonymous checkout
Checkout attributes
One-page checkout
Phone order support
Multilingual and multicurrency support
Configurable measure weights and dimensions
SSL support (secure browsing and checkout)
SMS notifications
PDF order receipts
Mini shopping cart
etc
Marketing
Marketing features include:
Reward Points System
Export products to Facebook
Supports related products
Discounts and coupons.
Newsletter subscriptions
Content
Gift cards
Product reviews and ratings
Product comparison sites
Affiliate program
etc
Payment methods
Our solutions allow you to accept all major credit and debit cards.

We support more than 50 payment methods and gateways:
Cash on delivery or Pay in store
Purchase order
Checks / money order
Manual gateway
2Checkout
AliPay
Amazon
ANZ
Authorize.NET
Beanstream
Braintree
Cybersource
EBS
EasyPayWay
Eway
iPay88
OKPAY
Paymill
PayPal
PayU
SagePay
Stripe
WorldPay
..and over 50 other methods
Shipping features
The store can be configured for free shipping over $X. A store owner can configure shipping rates based on order weight or order totals. A store owner can also specify additional shipping charges per product. A store owner can create shipping discounts (percent or fixed amount). Customer groups can be marked as free shipping.

Customers can estimate shipping cost before the checkout process start.

Tracking numbers are supported, so customers can easily track where shipments are located right now.

A store owner can define custom shipping methods (e.g. Ground, Next Day, 2nd Day, etc) or use popular shipping carriers (e.g. UPS, USPS, FedEx, etc).
Tax features
Tax calculations offer a considerable amount of flexibility to meet your store's legal requirements, your preferences, and the expectations of your customers. Store owners can manage all setting and details in admin website by easily.

Tax features list:
Configure taxes by country, state, zip
Individual products can be marked taxable or tax-exempt
Tax classes supported by product (e.g. goods, services, alcohol, etc)
Some customer groups can be marked as tax exempt
The European Union Value Added Tax (EU VAT) support (Company VAT Number)
Allow store owner to specify "tax based on" setting: billing/shipping/default/shipping origin address
Allow store owner to specify whether prices are entered including or excluding tax
Allow customer to choose tax display type (incl/excl tax)
Allow a store owner to specify tax display type (incl/excl tax)
Allow store owner to specify whether shipping is taxable
etc